Advertising

Record

Corporation







Advertising Record Corporation, Cliffside, NJ
&
The Recorded Voice Co., Canton, OH
Please note: This is a discographical catalog - items are NOT available for sale from us
The basic idea of a gramophone postcard is to glue a single sided miniature disc record onto a postcard and punch a center hole through both card and disc. For further details see the exploratory history of the phono postcard. The Advertising Record Corporation fixed the disc to the card (or postcard) with two staples. Often the reverse side carries additional information.
Scott Hambidge sheds light on the early history of the Advertising Record Corporation (see below). Lyle Boehland reports a series of cards advertising Harry Yerkes and his famous Syncopating Symphonists. On December 6th, 1925, Yerkes performed "Jazz America," a four-movement symphony written by Albert Chiaffarelli and based in large part on a Handy blues composition. The concert took place at Aeolian Hall, New York City.
For information on Yerkes see: http://www.ucpress.edu/books/pages/9426/9426.ch01.html
The disc carries no information, and the card reads simply "A message of Musical importance to YOU". It is worth checking on the cards as different takes have been used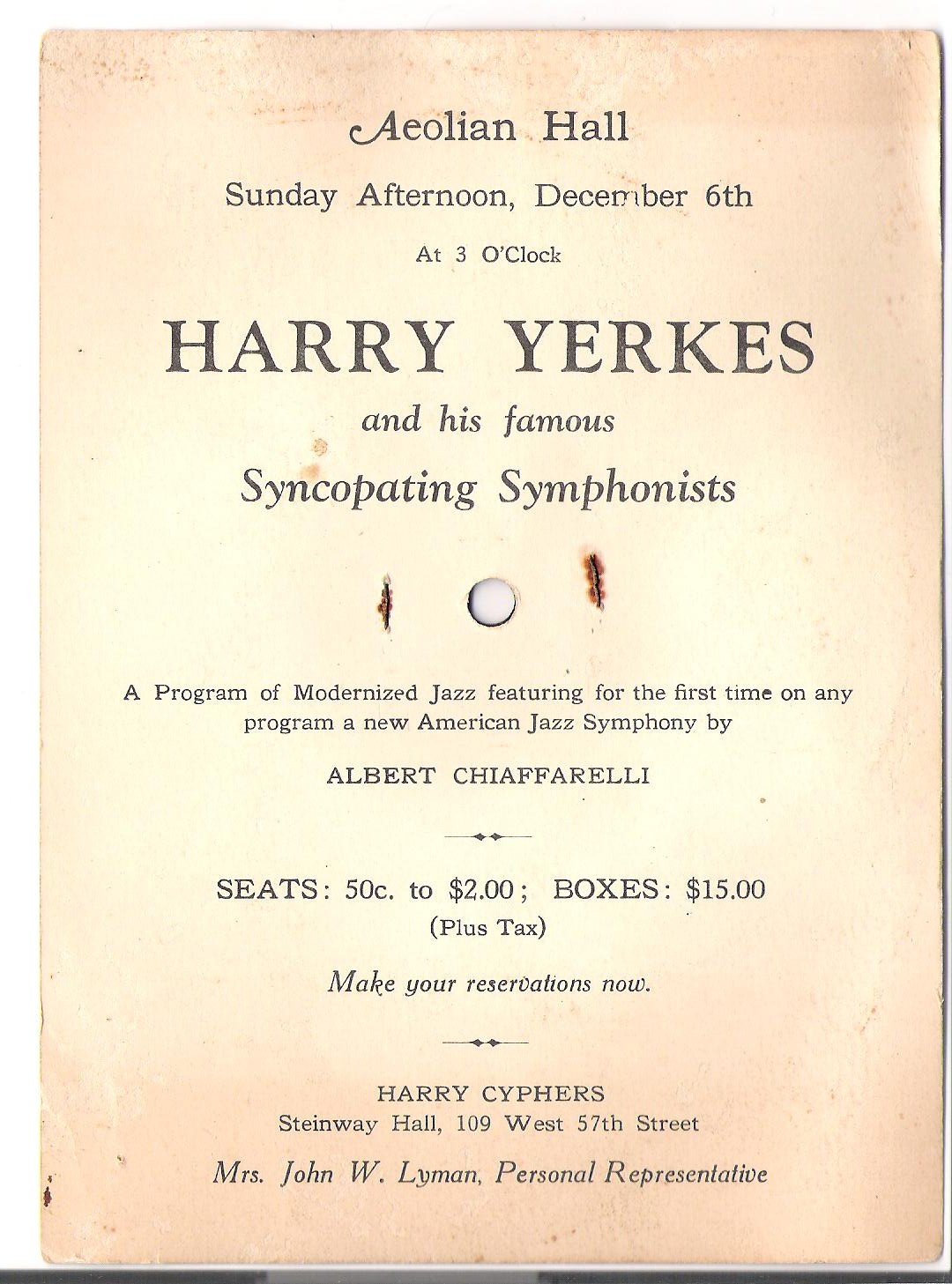 1. Matrix 356-1
2. Matrix 356-1
3. Matrix 356-3 (Has penciled "TILLIE THE TOILER" above the record)
4. Matrix 356-4
5. Matrix 356-4
6 Matrix 356 This card has the record only and is identified as "PROOF NO / PAT. PEND / Test Only: Not For Sale / Advertising Record Corporation Cliffside, N.J.", Nothing on reverse.
Jos Hocks reports a card by The Recorded Voice Co. Canton Ohio (USA), copyrighted in 1923, which "looks like they used the same records made by the Advertising Record Corp. from New York. They also published their cards around 1923."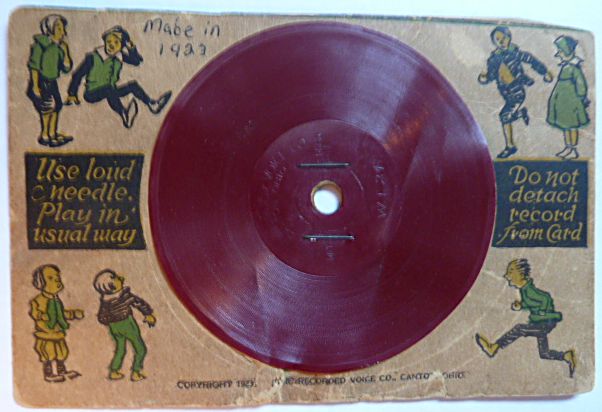 Hocks further reports a large card (12,5 x 15 cm) with transparent record with a Nursery Rhyme (Lazy Mary) Information on card: Made in U.S.A. by A. Record Co., 96 5th Ave., N.Y.C. (Nothing on the reverse side). And an advertising card for Talking Cards from the Advertising Record Corp. (Dated 1923)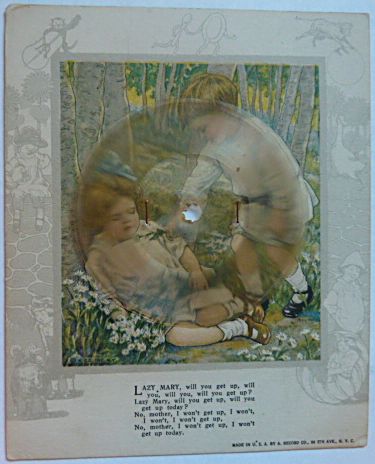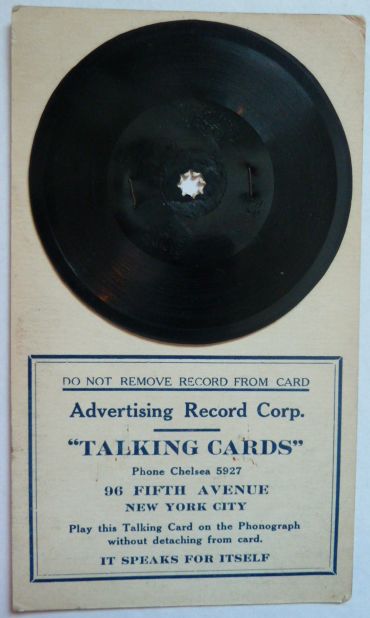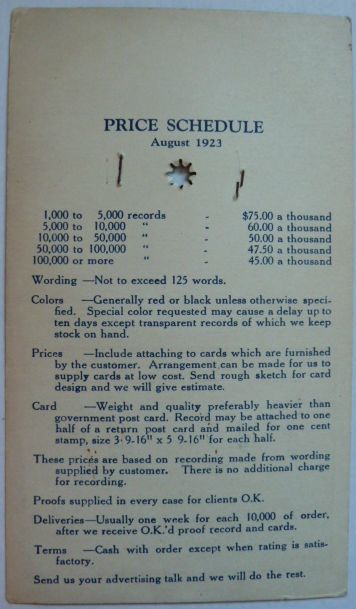 In 2013 Scott Hambidge, an antiques dealer from Stamford, CT, acquired a box of records which came from the estate of Hartwell Morehouse Webb, whose grandfather was Ezra Morehouse, brother of abolitionist Henry L. Morehouse (Morehouse College in Georgia is named after him). Hartwell Webb's father was involved with The Advertising Record Corporation in New York City. Included in the collection is the original 11" metal master disc along with two 78rpms which are etched and dated around the center "Ezra Morehouse Aug 29, 1922. According to a family note on the cover of the box they are the recorded voice of Ezra Morehouse describing his life growing up along the Erie Canal circa 1850. Also in the box are a number of tiny yellow discs attached to cards with nursery rhymes. The cards are marked "Made in USA by A. Advertising Co 96 5th Ave New York City". Another disc has the etched inscription "Save-Save-Save - Advertising Record Corp Cliffside NJ".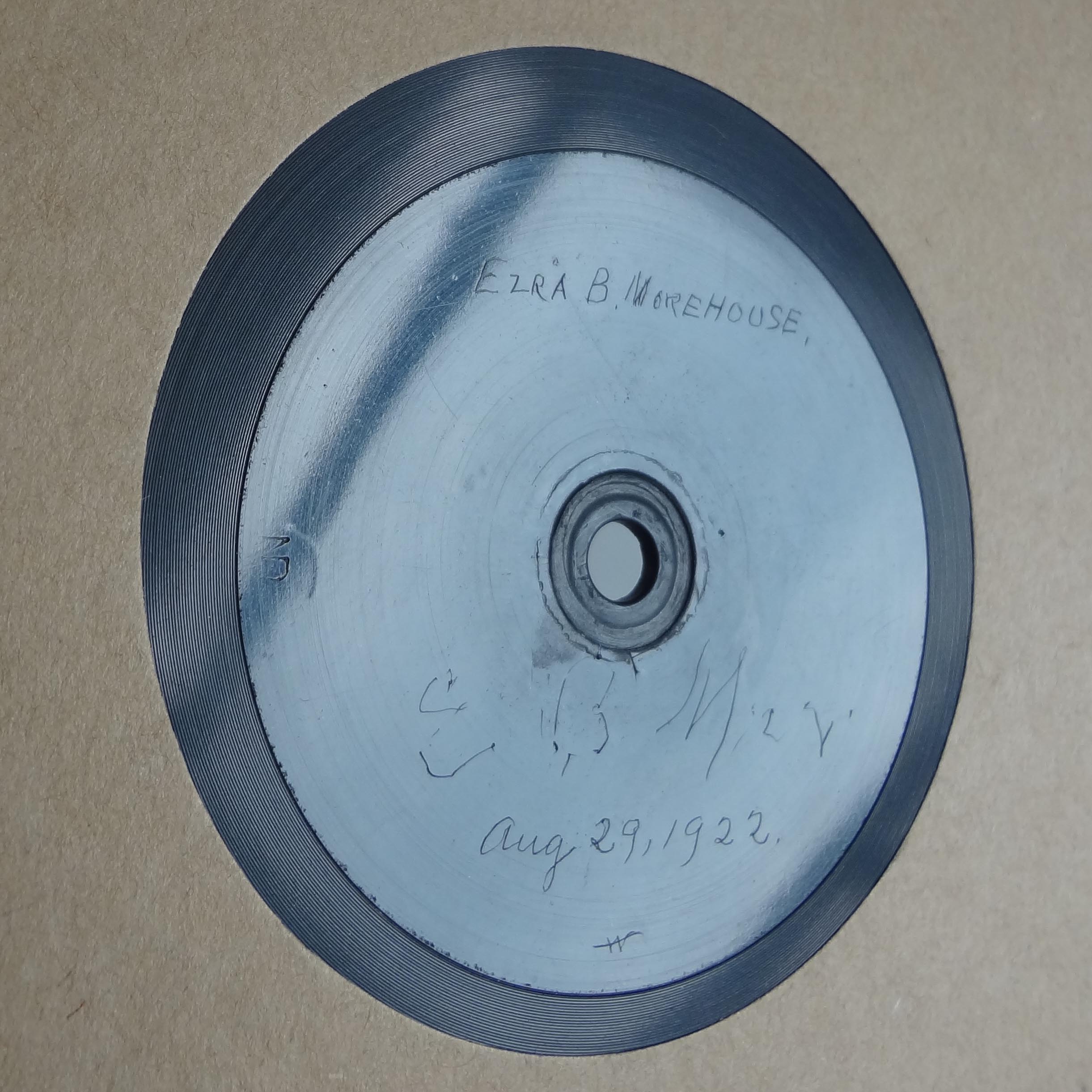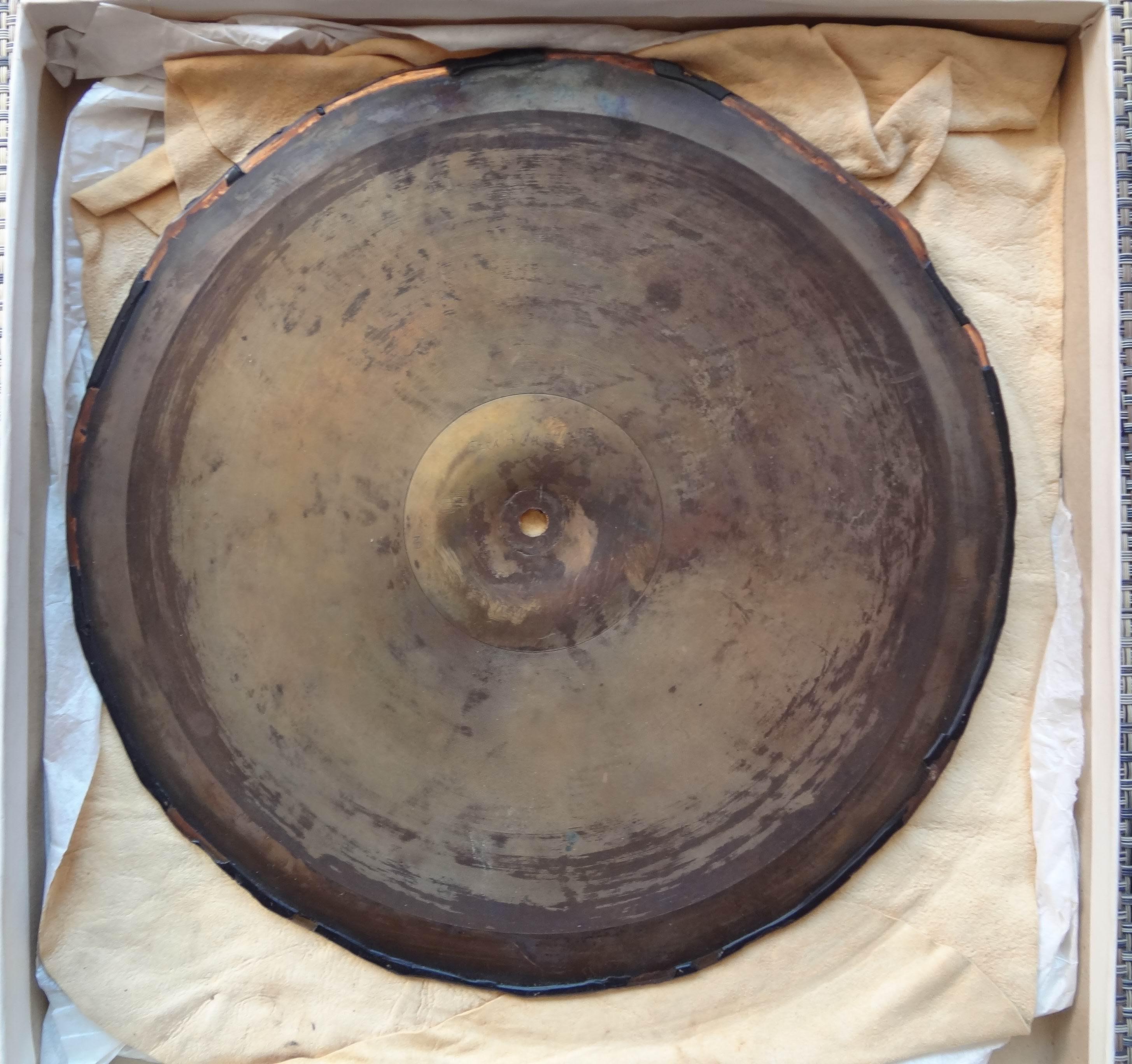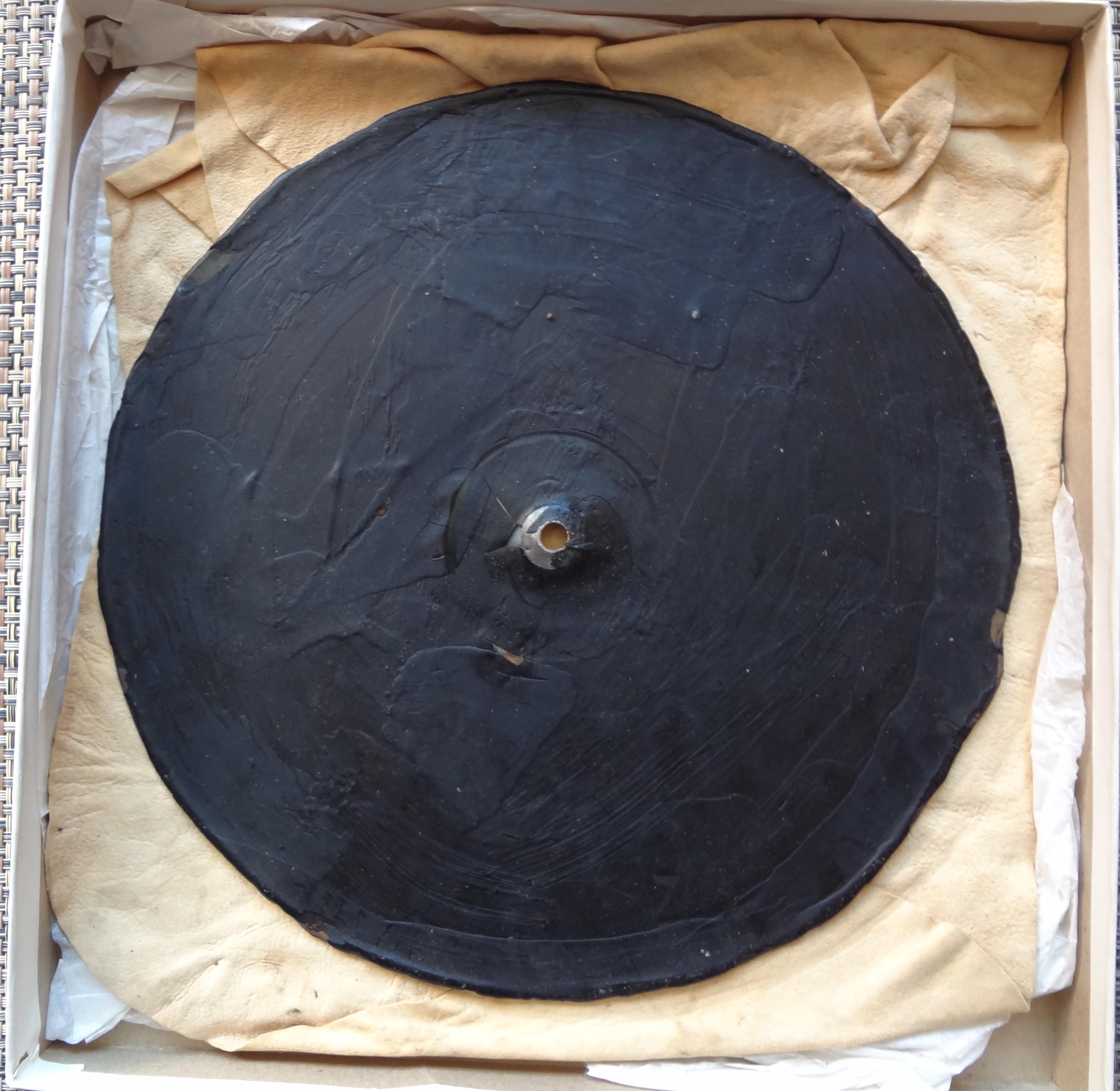 Disc with speech of Ezra Morehouse Metal master (recto) Metal master (verso)
If you have additions or corrections: Please contact us by e-mail: rainer-lotz@gmx.de

Updated 2013-05-05
---